Specifications Of Self Propelled Trailer
Technical performance parameters module unit

2 axle line drive unit

length (mm)

3 100

width (mm)

3 000

Low loading height

780 mm

The maximum loading height

1 380 mm

Normal ride height

1 080 mm(215/75R17.5)

Suspension Type / total stroke

Hydraulic suspension / 600 mm

Hanging regulatory / safety devices

safety valve RBE-R3/8-X-50 HYDAC germany

ball valve: BKH-DN13-15L INTEVA spain

Steering angle

55°

Driveshaft / suspension quantity

3/6

Hydraulic motor model

REXROTH A6VE

Reducer Model

REXROTH GFT

Max load/axle

25 T (speed 0 - 5 km/h)

Speed

0 – 8 km/h

Tire size

215/75 R 17.5

330 Pa when traction (kN)

4*60KN=240KN

Max 420 Pa when traction (kN)

4*75KN=300KN
How Does Self Propelled Trailer Work?
Self Propelled Trailer is usually composed of power pack (also known as PPU), drive module with hydraulic motor drive axle and modular trailers.
The engine, hydraulic pump and hydraulic oil tank are installed in the power pack (PPU), which mainly provides hydraulic power for the hydraulic motor driving the modular trailer, and also provides hydraulic source for the modular trailer suspension support hydraulic cylinder and steering hydraulic cylinder.
At the same time, when PPU with different power adapts to modular trailer, it also needs to be determined through relevant power check calculation. The power of PPU is related to the total number of axles and the number of drive axles of the matched modular trailer.
The drive module is located in the front of the whole trailer, and is installed in the front suspension power pack. A hydraulic motor is installed in the axle to provide traction for the driving of the vehicle group. At the same time, it carries goods together with the modular trailer.
The steering and speed of the trailer can be controlled through a flexible cable or a wireless remote control, which can be hung in front of the driver's chest and operated at the most suitable observation position next to the trailer.
The module reflects its flexible splicing. The driving module of self-propelled trailer and modular trailer are modular structures that can be spliced longitudinally and transversely. It can be spliced in any form to adapt to goods of different size.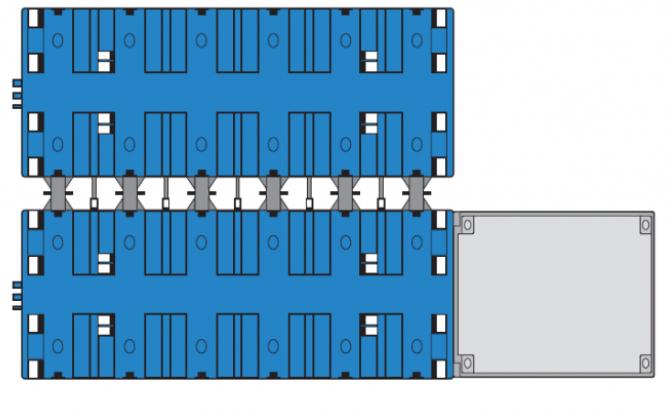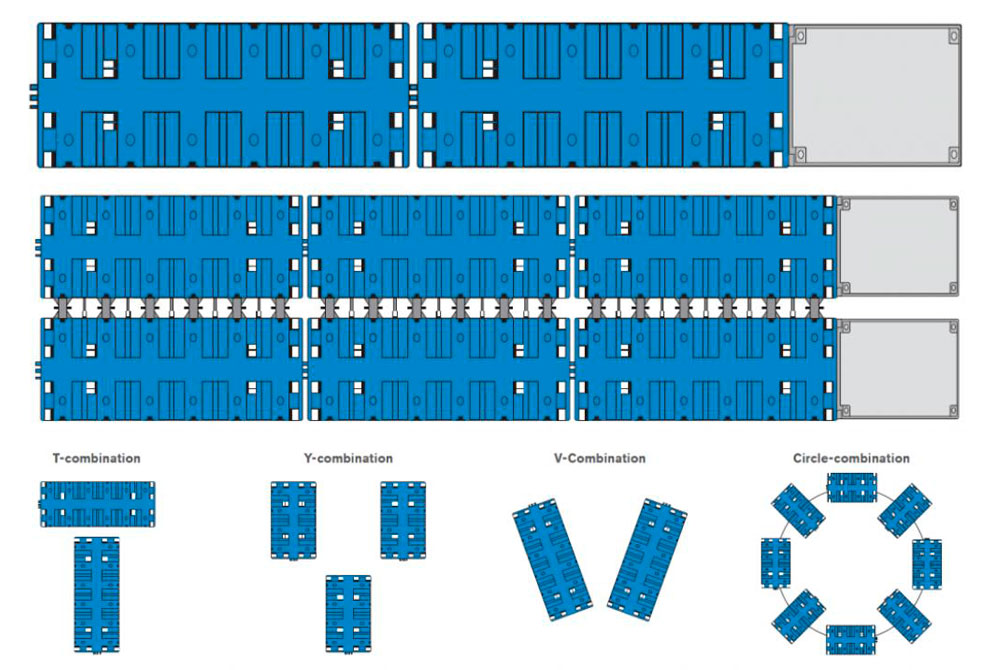 As shown in the figure above, the combination of modular trailers can have a certain distance from each other and adapt to the shape of special cargos. The trailers can meet the control requirements through cable connection.
In addition, the platform height can be adjusted by using its own hydraulic system. It can better meet the requirements of height limit in transportation, and also facilitate the loading and off load of cargos.