The first SPMT was born in 1983, designed and manufactured by Scheuerle, and delivered to Mammoet the next year. 30 years of running has not made them old. Now, these first SPMTs are still in service with Mammoet.
SPMT has made great progress since its birth. At present, the world's famous SPMT brands include Scheuerle (Germany), kamag (Germany), Nicolas (France), Goldhofer (Germany), COMETTO (Italy), etc., mostly European brands (the first three belong to the TII group); In recent years, Rui trailer has developed rapidly in this field which has greatly promoted the localization process of heavy cargo transportation in China.
As a pioneer, Scheuerle's SPMT has spread all over the world, with total usage of more than 5500 axes. It is widely used in shipbuilding, petrochemical, nuclear power, aerospace, road and bridge engineering, and other fields. Now it has developed to the fourth generation. Due to the adoption of welding robot technology, the load capacity of SPMT per axle has increased from 40 t of the third generation to 48 T, and the control technology has reached a new level.
SPMT Composition
SPMT Module
SPMT modules have 2, 3, 4, and 6-axle specifications, among which 4 and 6-axle modules are the most common. The size design of SPMT is very particular. The module is 2.43 m wide, 5.6 m long (4-axle module), and 8.4 m long (6-axle module). It can be transported in standard 20 'and 40' containers. Some super mega engineering companies have a global business, but they may not have local branches, so it is necessary to transport the heavy equipment required for the project locally. The transnational transfer of heavy equipment is generally a combination of ocean transportation and land transportation (highway and railway). The containerization of equipment can bring great convenience and save a lot of transportation costs, So as to achieve global rapid scheduling deployment, which was one of the original design objectives of SPMT.
Each axle line is composed of two pendulum axles. Each pendulum axle is equipped with two wheels (an air-filled tire or solid tire can be selected). The center of the two wheels can swing at a certain angle along the center in the vertical direction, which can make the module compensate for the height of the ground in the transverse direction.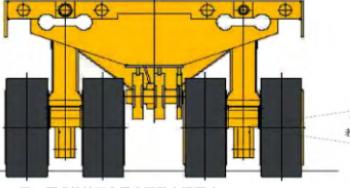 The module is controlled by the hydraulic system. The normal height is 1.5 m, and there is a lifting range of 350 mm up and down. Each tilting axle has an independent hydraulic suspension, but the hydraulic cylinders of several adjacent axles are connected in series into several groups of closed circuits. When passing through a ramp or uneven road, the pressure balance of the circuit cylinder can be used to automatically adjust the height of the hydraulic cylinder of each axle to adapt to the ground and make compensation longitudinally, which is combined with the horizontal compensation of the tilting axle. It can effectively adjust the load balance of each wheel to avoid individual tire overload. The lifting of the hydraulic system can also be manually controlled to facilitate the loading and unloading of goods. When the load is light or empty load, some axles can even be retracted without contacting the ground to reduce resistance.
SPMT can be configured with the following three types of pendulum axles:
Driven tilting axle - with hydraulic motor, it can obtain power from power unit PPU to drive SPMT;
Brake type tilting axle - no driving capacity, with compressed air braking device;
Driven pendulum axle - no driving capacity and braking device, only follow-up.
Power unit PPU
PPU (power pack unit) is the power source of SPMT and an independent module. There are several lifting hooks at the top for crane lifting; It can be seen that there are 4 universal wheels at the bottom, which is convenient for the PPU to be moved independently. Generally, the PPU is attached to the front of the SPMT module, and the two connectors on the top are equipped with hydraulic devices. Through expansion and contraction, the PPU can be tilted up by 11 ° at most, and the PPU can be prevented from touching the ground when the SPMT goes uphill. The model skillfully uses the rotation of the screw to simulate the expansion and contraction of the hydraulic device, and PPU can adjust the elevation angle perfectly on the model. In practical application, PPU can also be fixed above SPMT module, which is often due to the consideration of reducing the total length of SPMT.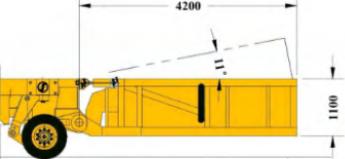 The core components of PPU are composed of a diesel engine, hydraulic pump, control panel, etc. while PPU is connected to the SPMT module, which also includes hydraulic oil pipe, compressed air pipe, control line, etc. The diesel engine drives the hydraulic pump and transmits the hydraulic power to the hydraulic motor driving the swing axle in the SPMT module through the oil pipe, so as to drive the SPMT to run. A PPU is not necessarily only used to drive one SPMT module but also can drive multiple modules at the same time. These modules need to be connected with PPU with hydraulic oil pipe, etc.
Control Technology
numbers of SPMT modules can work together efficiently thanks to cutting-edge control technology. As long as it is at 600 m × Within 600 m, the modules are arbitrarily combined in the form of tight coupling or loose coupling, and the control technology can integrate all modules into a unified whole to manage and control.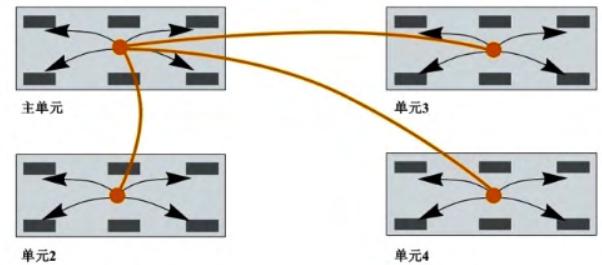 What exactly is SPMT-- The strongest of land transportation, known as "land Hercules"
In the whole system, one transport module is selected as the main unit, all other units are connected to the main unit through the data line, receive the command of the main unit from the data line, and perform steering, driving, braking, and other actions. The computer on the main unit uniformly manages all units, The operator can easily manage the whole SPMT cluster by holding a portable control panel and remotely controlling the computer of the main unit. Users can choose to use cable or wireless remote control.
Steering Control
The most intuitive benefit of control technology is accurate and flexible steering control. No matter the number of modules or the complexity of the combination mode, it will not become an obstacle to steering. The unified management of computers makes all wheels cooperate seamlessly and can make almost any steering action.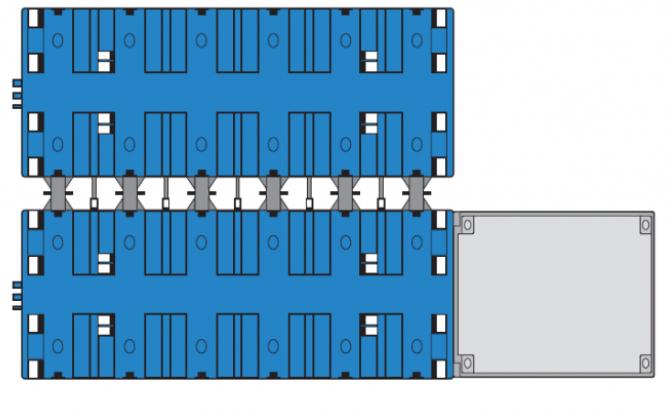 In the case of a single module, several typical steering actions are as follows: the steering with the rotation center outside the module; 360 ° rotation in place; Lateral driving; Drive diagonally. In the case of a multi-module combination, the steering action is also flexible, for example, the T-type combination turns around the external rotation center; The ring combination rotates around the center or translates around.
Self-Propelled Modular Transporter Video
Self-Propelled Modular Transporter Safety
Self-Propelled Modular Transporters (SPMTs) are used in the transportation of heavy loads such as bridge sections, oil refinery equipment, and offshore drilling platforms. Safety is a critical consideration when using SPMTs, as any mishap could result in significant damage to both the load being transported and the SPMT itself.
Here are some of the key safety considerations from self-propelled modular transporter manufacturer Rui Trailer:
Operator Training: Operators of SPMTs must be properly trained in the safe operation of the equipment. Training should include a thorough understanding of the SPMT's control system, load capacities, and emergency procedures.
Load Stability: Load stability is critical to safe transportation. The load must be properly secured to the SPMT to prevent shifting during transportation. This requires a detailed understanding of the load's weight distribution and center of gravity.
Route Planning: The route that the self-propelled modular transport will take must be carefully planned and analyzed to ensure that it can support the weight of the load and the SPMT. Factors such as road grade turns, and clearance under bridges must be considered.
Weather Conditions: Weather conditions can have a significant impact on the safe operation of an SPMT. High winds, heavy rain, and snow can all make transportation more difficult and increase the risk of accidents.
Maintenance: Regular maintenance is crucial to the safe operation of an SPMT. All components must be inspected regularly, and any worn or damaged parts must be replaced promptly.
Communication: Communication is key to safe operation. SPMT operators must be in constant communication with each other, as well as with any other personnel involved in the transportation project.
Overall, self-propelled modular transports are safe when operated properly by trained personnel, with proper planning, maintenance, and communication. However, it is important to always be vigilant and proactive in identifying potential safety risks and taking the necessary steps to mitigate them.
For more information, please pay attention to the self-propelled modular transporter for sale from Rui Trailer at https://www.ruitrailer.com/ and get the self-propelled modular transporter price list.
Self-Propelled Modular Transporter Price Advantages
RUI TRAILER's self-propelled modular transportation (SPMTs) offer a range of advantages when it comes to pricing:
Cost-effective: RUI TRAILER's spmt for sale is designed to be cost-effective, offering competitive self-propelled modular transporter prices without sacrificing quality or performance.
Efficiency: RUI TRAILER's self-propelled modular transports are designed for efficiency, with features such as low dead weight and hydraulic steering systems. This means that you can transport heavy loads with less fuel consumption and lower operating costs.
Durability: RUI TRAILER self-propelled modular transporter manufacturer's SPMTs are built to last, with high-quality materials and construction techniques ensuring longevity even in tough conditions. This means that you can get more value for your money over time.
Overall, RUI TRAILER's self-propelled modular transporters offer a range of advantages when it comes to pricing, making them a great investment for businesses looking to transport heavy loads efficiently and cost-effectively.
Why Choose Rui Trailer Self-Propelled Modular Transporter Manufacturer
Quality: RUI Trailer is known for producing high-quality spmt for sale that are designed to withstand heavy loads and rugged terrain. They use the latest technology and materials to ensure their heavy transport trailers are durable, reliable, and efficient.
Customization: RUI Trailer offers a wide range of spmt module transports that can be customized to suit your specific needs. They have a team of experienced engineers who can work with you to design a transport solution that meets your requirements.
Innovation: RUI Trailer is constantly innovating and improving its self-propelled modular transportation. They are always looking for ways to make their SPMTs more efficient, safer, and easier to use.
Service: RUI Trailer provides excellent customer service and support. They have a team of experts who can answer your questions, such as scheuerle spmt specifications, provide technical support, and help you get the most out of your SPMT.
Reputation: RUI Trailer has a strong reputation among spmt manufacturers. They have many satisfied customers around the world who have used their products for a wide range of applications.
Related Self-propelled Modular Trailer Hot Topics